It's not about who wins!
We field a team in the Lunchtime Legends soccer competition at the Domain in Sydney and when we say we field a team, we're talking about 16 players for 5 a side soccer!
Each Tuesday we head to the Domain to play against teams from companies across the Sydney CBD including Ernst Young, Price Waterhouse Cooper and Macquarie Bank, to name a few.
We recently secured our first win and coupled with a few forfeits we are through to the semi finals this week. Technically we haven't lost for four games in a row, so we're coming into semis week on a red hot streak!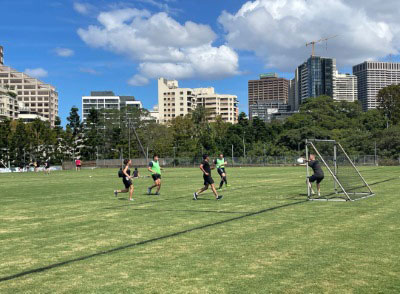 Jokes aside, the benefits of taking part are great! We get to step away from our desks at lunchtime and get some exercise (mostly by whoever is our goalkeeper), it's great for team building and building confidence with each other, networking with other teams (also sharing our abundance of players with other teams that may be short) and we also have a lot of fun on the field. Regardless of how we go in the finals we'll be hitting the courts soon for the mixed netball competition.
If you're looking for a lunchtime competition to join, Lunchtime Legends has a wide range of sports including Basketball, Netball, Soccer and Football all across Sydney. Visit www.lunchtimelegends.com.au for more information.